Exciting news from Jetpack! They have recently unveiled their official AI assistant for content on WordPress, powered by OpenAI. This innovative feature aims to assist users in creating engaging and high-quality content for their websites. The Jetpack AI assistant offers two versions: a limited free version and an unlimited paid version, providing flexibility for users based on their needs and preferences. With this AI-powered assistant, WordPress users can expect enhanced content creation capabilities and improved efficiency in their website management. It's an exciting development that showcases the integration of advanced AI technology into the WordPress ecosystem, offering users new possibilities for their online content.
key features
OpenAI technology is seamlessly integrated into the WordPress editor.
The paid version of the integration provides unlimited requests for a monthly fee of $10.
The free version allows users to make 20 requests.
The integration enables the generation of articles, titles, and summaries.
It also includes features for checking spelling and grammar, ensuring high-quality content.
With the integration, users can easily translate content between multiple languages.
This means that users can write in one language and effortlessly publish their content in another language.
Jetpack has recently introduced an exciting addition to its lineup: a brand-new WordPress plugin that seamlessly integrates OpenAI's content generation capabilities into the WordPress editor. This integration empowers publishers by enabling them to effortlessly generate content right within the familiar WordPress publishing workflow. With this powerful tool at their disposal, publishers can now streamline their content creation process and produce engaging articles, blog posts, and more without ever having to leave the WordPress editor. This innovative integration represents a significant step forward in simplifying and enhancing the content creation experience for WordPress users.
Automattic, led by its founder Matt Mullenweg, is a renowned software development company that has made significant contributions to the digital landscape. It is responsible for creating and supporting various popular plugins, software, and websites that have gained widespread usage and recognition. Some of their notable projects include WooCommerce, WordPress.com, Tumblr, Akismet, and Jetpack. In addition to their product offerings, Automattic actively participates in open source initiatives, contributing to projects like WordPress, WordCamp US, and bbPress. Through their dedication to innovation and commitment to the open source community, Automattic has played a crucial role in shaping the online world we know today.
While Automattic operates independently from the non-profit WordPress.org, their extensive experience in developing for and contributing to the WordPress platform has established their software as the industry standard for plugins.
Empowered by OpenAI
WordPress has been conducting testing on an OpenAI writing assistant since January 2023. While the official announcement doesn't explicitly state that it is powered by OpenAI, Automattic, the company behind WordPress, has confirmed to SearchEngineJournal that this plugin does utilize OpenAI technology.
Jetpack AI Assistant
Jetpack has unveiled a new plugin named Jetpack AI Assistant, designed to serve as a writing assistant for publishers. This plugin introduces an AI assistant directly within the WordPress editor block, featuring a conversational user interface. With this interface, users can write content in a natural and conversational manner, similar to sending a text message.
If you are already familiar with ChatGPT, using the Jetpack AI content generator will feel intuitive. The process involves providing a "prompt" to the AI, specifying what you want the content to be about. If the generated content requires editing or if something feels lacking, you can instruct the AI to rewrite it according to your preferences.
With the Jetpack AI Assistant plugin, the writing process becomes more interactive and user-friendly, offering publishers a convenient tool to enhance their content creation workflow.
Jetpack AI Assistant Interface
The AI Assistant is contained within the block editing interface.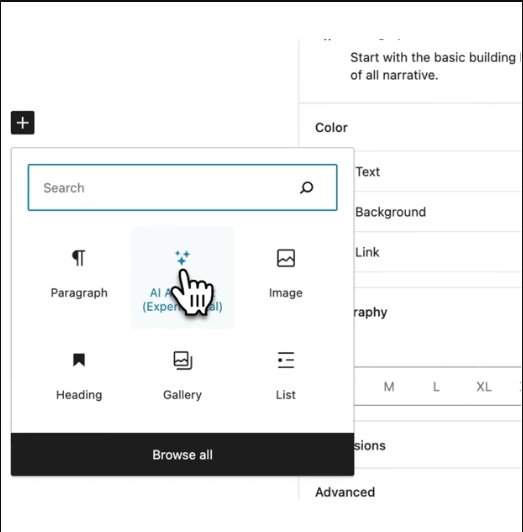 Dynamic Writing Styles
The AI content generator provides users with a range of selectable writing tones, known as Adaptive Tones, which allow for a dynamic change in writing style. Here are the available writing tone options to choose from:
Formal: Conveys a professional and sophisticated tone.
Informal: Creates a casual and conversational tone.
Optimistic: Generates content with a positive and upbeat tone.
Humorous: Adds a touch of humor and wit to the writing style.
Serious: Establishes a serious and authoritative tone.
Skeptical: Creates a questioning and doubtful tone.
Empathetic: Infuses the writing with empathy and understanding.
Confident: Projects a self-assured and confident tone.
Passionate: Generates content with a passionate and enthusiastic tone.
Provocative: Creates content that is thought-provoking and challenging.
With these adaptable writing tones, users can customize the style of their generated content to suit the desired tone and effectively convey their message to the audience.
Title & Summary Generation
Generating titles and summaries can be a tedious task. However, Jetpack's AI plugin takes care of these writing responsibilities, making the process much easier and more efficient.
Translation
Content translation is a straightforward process. To translate your content, you simply choose the translation option and select the desired language. Once you do that, the content you have on the editor will automatically be translated into the new language. It's a convenient way to make your content accessible to a broader audience by presenting it in different languages.
Spelling and Grammar Correction
Another fantastic feature is the automatic spell-check and grammar correction capability.
What is the Pricing for the WordPress AI Content Generator?
The pricing structure for the WordPress AI Content Generator is as follows: users of the WordPress CMS can make use of 20 free requests. Beyond that, there is a monthly fee of $10. However, for users of WordPress.com, the AI Content Generator is available free of charge.
If you're seeking a seamless content generation solution specifically for WordPress, the Jetpack AI plugin is a logical choice. It eliminates the need for copying and pasting content between different applications, as the generation process seamlessly integrates within the WordPress editing workflow.
The pricing for the WordPress content generator plugin is set at half the price of ChatGPT, amounting to $10 per month. Notably, there are currently no restrictions on the number of requests that can be made within this subscription.
For users opting for the free version of the Jetpack plugin, they can enjoy up to twenty complimentary requests, with access to all available features. Beyond that limit, an upgrade is necessary to continue generating content.
By upgrading to the paid version, users gain the benefit of high-volume requests and priority support. Importantly, there is no maximum cap on the number of requests that can be made with the paid version, enabling users to generate content without limitations.