Has your WordPress website been hacked or infected with malware? If so, there are steps you can take to effectively remove malware and malicious code from your site. One of the most convenient methods is to install a WordPress malware removal plugin. These plugins are designed to scan your WordPress website, detect and eliminate malware, as well as other malicious code.
Additionally, they can identify other security vulnerabilities on your site and assist you in resolving them. However, it is crucial to choose the right plugin for this task. When attempting to remove malware or establish ongoing protection for your site, it is essential to use highly effective plugins.
To assist you in this endeavor, we have conducted a review of the top 6 WordPress malware removal plugins. Discover how you can effectively remove malware from your WordPress site by utilizing these recommended plugins.
In what situations should you consider using WordPress malware removal plugins?
If your website has been compromised or infected with malware, and you still have access to your WordPress admin area, utilizing any of these plugins can assist in scanning your WordPress site for malware and restoring it to its original state.
It's important to note that malware infection is a grave concern that can result in data loss, file corruption, unauthorized access to sensitive customer information, loss of traffic, and various other issues. Therefore, we highly recommend seeking the assistance of a security expert to handle the cleanup process for your website. You can request our professional WordPress malware removal service for this purpose.
Alternatively, if you possess technical expertise, you may choose to tackle the malware removal yourself. However, it is crucial to create a backup of your website before attempting any malware removal procedures.
6 Best Performing WordPress Malware Removal Plugins
MalCare is a robust WordPress security plugin that provides an array of impressive cleaning features. This plugin not only cleans up hacked websites but also offers proactive protection against future security breaches. Developed after extensive analysis of over 240,000 WordPress sites, MalCare utilizes collective intelligence to provide layered security to websites.
If you're currently dealing with a malware infection, MalCare offers the following capabilities:
Conduct thorough scans that detect both existing and new, hard-to-find malware.
Clean your site and remove all traces of malware.
Activate Firewall protection to block malicious IP addresses and thwart unauthorized login attempts.
Strengthen your site's defenses to prevent unauthorized changes.
Access regular backups that are stored for up to 365 days.
MalCare's deep scanning technology enables it to identify new and complex malware that may go undetected by other security plugins. With the convenient 1-Click Auto Cleaner, you can effortlessly clean and secure your site.
In addition to its malware removal capabilities, MalCare also offers Site Management features to update outdated plugins, themes, and the WordPress core. It includes User Management functionality for adding or deleting users, among other tasks. Furthermore, MalCare provides White-Labeling and Client Reporting features for convenient customization and reporting.
Support for MalCare is available through email and their contact page. For urgent issues, users can utilize the instant chat option within the plugin's dashboard. The support team is knowledgeable, responsive, and willing to provide valuable tips on WordPress security.
When it comes to removing WordPress malware and ensuring site security, WordFence is a trusted and widely used solution. With over 3 million installations, this popular WordPress security plugin offers a comprehensive set of features to safeguard your website.
One of the standout features of WordFence is its powerful malware scanner. Regularly updated definitions allow the scanner to detect the latest threats, thoroughly scanning your WordPress themes, plugins, content, and core files.
If your site is infected with malware, WordFence empowers you to:
Scan your files to identify various types of malware, malicious code, backdoors, code injections, URL redirects, and more.
Identify files that do not belong to WordPress and provides the option to remove them.
Restore infected WordPress files with original versions sourced from WordPress.org.
Check your content, such as images and videos, to ensure they are not infected with malware.
Enhance your site's security with features like real-time scanning and anti-brute force attack protection.
WordFence's malware definitions are updated daily for premium users (monthly for free users), ensuring that your site is scanned for the most recent threats and cleaned effectively. The plugin utilizes reliable methods, such as comparing each file against pristine copies from WordPress.org, to identify and flag any variations.
In terms of support, WordFence goes above and beyond by offering assistance to both free and premium users. While premium users receive enhanced support, the WordFence team is responsive and attentive to the requests of all users, striving to provide the best assistance possible.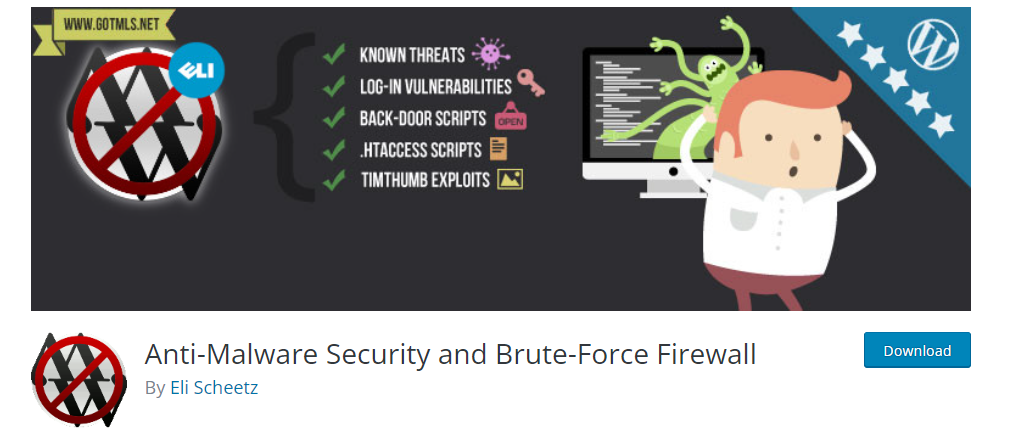 When it comes to tackling malware issues on your WordPress site, the Anti-malware security and brute force firewall plugin is a powerful solution designed to help you swiftly recover from a compromised state.
Unlike many other plugins that simply detect threats and rely on user input for action, this plugin takes a proactive approach by automatically deleting confirmed malware. For potential malware that is not yet confirmed, you have the flexibility to decide whether to delete or retain the identified code.
If your site has been infected with malware, this plugin provides the following capabilities:
Perform a comprehensive scan of your site to identify malware and malicious code.
Automatically remove all confirmed malware, effectively restoring your site's health with minimal user intervention.
Employ a firewall to block attackers from exploiting known vulnerabilities.
Update anti-malware definitions to ensure ongoing protection against emerging threats.
Plugin Effectiveness:
Numerous users have reported that this plugin effectively cleansed their sites of malware. With its focused approach on malware identification and removal, the developers have dedicated their efforts to refining this aspect, making it one of the top choices for malware removal.
In functionality, this WordPress antivirus plugin operates similarly to antivirus software installed on your computer. It utilizes regularly updated definitions to detect and eliminate malware, while also establishing a protective firewall against future attacks.
Support:
Both free and premium users can access support through the plugin's forum or by leaving comments on the gotmls.net homepage. The developer of the plugin is known for being helpful and responsive, readily addressing user inquiries and requests.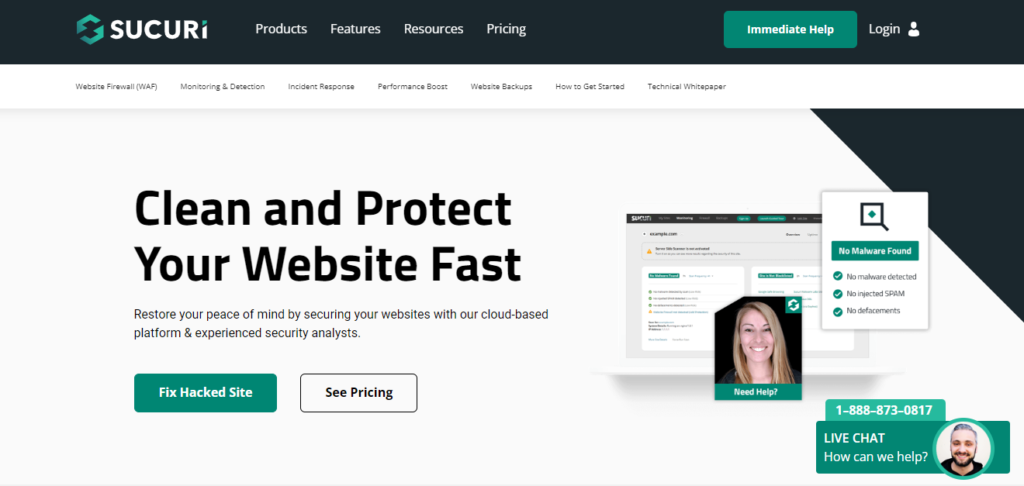 Sucuri is an excellent plugin for effectively handling malware cleanup on WordPress sites.
This plugin offers robust scanning and cleaning tools that assist in removing malware and malicious code from your website. With over 400,000 site owners relying on Sucuri, it has proven to be a trusted solution for maintaining the cleanliness and security of WordPress sites.
If you find yourself dealing with a malware infection, the Sucuri plugin equips you with the following capabilities:
Conduct a thorough scan of your website to detect malware and malicious code (note that the free version only offers a remote scan).
Perform a file integrity check, comparing all WordPress files against original copies from WordPress.org and flagging any variations. This simplifies the identification and removal of malware and malicious code.
Check if your site is blacklisted by search engines or antivirus programs, helping you take necessary steps for delisting.
Strengthen your site's security to prevent future infections and attacks.
Receive dashboard notifications whenever any malicious activity is detected.
Plugin Effectiveness:
Sucuri employs a combination of malware definitions and file integrity scanning, allowing the plugin to effectively detect malware and malicious programs with a high level of accuracy. By using Sucuri, you can have confidence that any malware present on your site will likely be detected.
It is important to note that the remote WordPress malware scanner available in the free version is not as powerful as the server-side scanner offered in the premium version.
Support:
Sucuri offers exceptional support to premium users. If you encounter any difficulties while attempting to remove malware from your WordPress site, their team is readily available to assist you. However, free users do not have access to support services.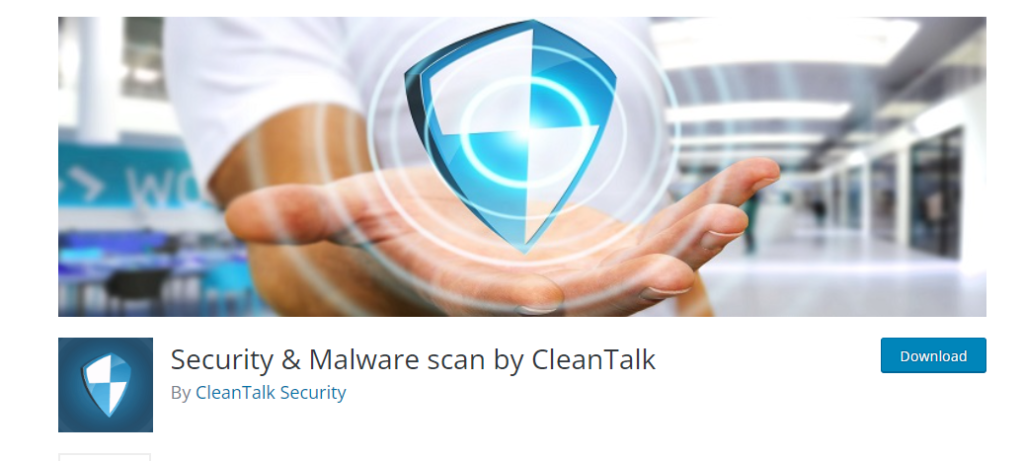 CleanTalk is a relatively new but highly effective WordPress malware removal plugin. With CleanTalk, you can easily detect and eliminate malware from your WordPress site.
One standout feature of CleanTalk is its heuristic scanning capability. By analyzing the code and behavior of scripts, heuristics can identify even unknown malware. This additional layer of protection enhances the security of your site.
If you find your site infected with malware, CleanTalk offers the following functionalities:
Scan your site to identify and remove known malware.
Utilize heuristics to detect and remove unknown malware.
Perform a thorough scan of your database for SQL injection.
Strengthen your site's security measures to prevent future attacks and infections.
Plugin Effectiveness:
CleanTalk delivers effective scanning and malware identification. While it primarily relies on the signatures of known malware, the integration of heuristics ensures the identification and removal of unknown malware, significantly enhancing the plugin's effectiveness.
Furthermore, the SQL injection scanner allows you to detect and eliminate scripts that attempt to inject malware into your database. Overall, CleanTalk offers comprehensive scanning features to thoroughly clean up your site.
Support:
As CleanTalk is a free plugin, support is provided through the WordPress support forum. The plugin developers are known for their excellent support. At the time of our assessment, they had already resolved 15 out of 18 user issues raised on the forum page. These impressive statistics demonstrate their commitment to assisting users with any concerns or questions they may have.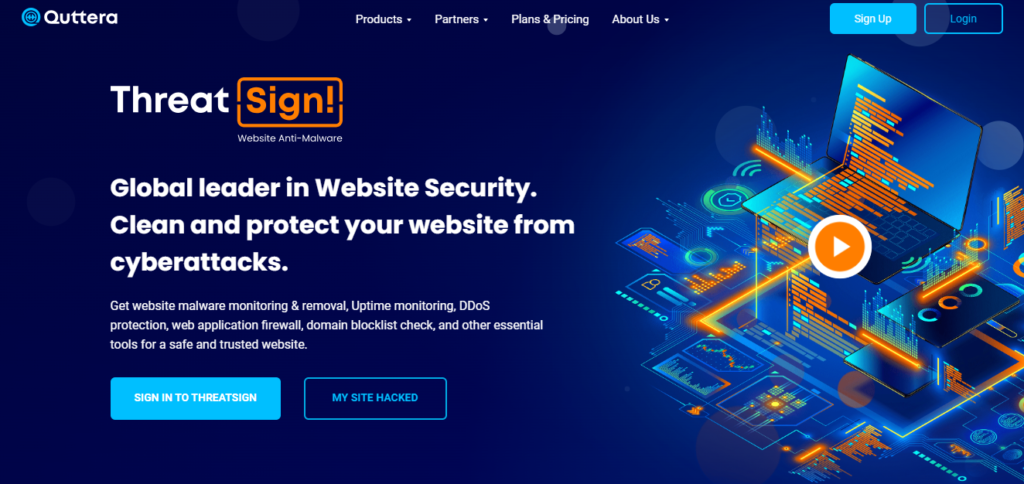 The Quttera WordPress malware scanner is a powerful tool designed to identify and remove various forms of malware. Whether you're dealing with trojans, spyware, worms, shells, or other malicious code, this plugin is equipped to detect and eliminate malware effectively.
If your site has been infected with malware, the Quttera plugin offers the following capabilities:
Conduct a comprehensive scan to detect and delete all types of malware and malicious code.
Identify files and shells that have been injected by malware.
Utilize heuristics to detect unknown malware, expanding the plugin's ability to identify threats.
Check if your site has been blacklisted by search engines like Google and other authorities.
Plugin Effectiveness:
The Quttera scanner excels at its job, as evidenced by the comprehensive list of malware variations mentioned on the plugin page. This indicates that the Quttera team has put considerable effort into ensuring thorough malware detection and removal. With this plugin, you can expect reliable identification and deletion of malware.
Furthermore, Quttera has the ability to identify and delete unknown malware, possibly using heuristics. This feature enhances the plugin's effectiveness, allowing it to detect malware that other plugins may miss.
Support:
Based on the limited number of support requests on Quttera's forum page, it appears that users encounter few issues with this plugin. When support requests do arise, they are promptly addressed and resolved. This demonstrates the effectiveness of Quttera's support team. Overall, Quttera receives a positive rating for its support services.
Our service:
If you're in need of professional assistance to clean your WordPress site from malware and ensure its security, WP Technify is here to help. WP Technify specializes in WordPress malware removal services, providing expert solutions to effectively eliminate malware and restore your site's integrity.
To avail of their services or inquire further, you can contact WP Technify through their website at www.wptechnify.com. Their team of experienced professionals will be ready to assist you with your malware cleanup needs, offering reliable and efficient solutions to protect your WordPress site from potential threats. Don't let malware compromise your website's performance and user experience – reach out to WP Technify today for reliable and comprehensive malware cleaning services.